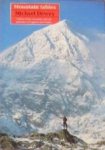 Deweys - The Deweys are peaks in England, Wales and the Isle and Man between 500 metres and 2,000 feet (609.6 metres) in height, with a prominence above 30 metres (98 feet), which were listed by Michael Dewey in 1995. Deweys extend the England and Wales Hewitts below 2,000 feet, but above 500 metres.
More information: Wikipedia...

Members can use the list below as their personal Dewey bagging tick list. Just register and log in to tick them off...

Selected mapping: Google or Bing / Ordnance Survey
Map Legend: :Deweys
Dewey List & GPS Waypoints:
Climbed any of these hills? Log in to tick them off...
Sort this list by: Name | Height | Popularity | Prominence | Significance